Environmental Design
Do you want to improve brand awareness, foster employee loyalty and increase productivity?
Environmental design does just that by connecting your company's story and culture with a space, or environment. It creates a journey through your brand and lets people experience it in 3D. Environmental design can help bring your company's values and heritage to life and connect with associates and visitors alike.
Environmental design can include graphic, architectural, interior and industrial design. Other aspects include wayfinding, identity, values and other brand attributes that connect people to place.

Environmental Design Process
Whether we're enhancing an existing space or starting from scratch, our approach is always collaborative. We can work alongside your architects, real estate team, facilities team or, if we aren't already your interior design team, interior designers.
We know the importance of getting buy-in from all the appropriate stakeholders at the table and are practiced in working with the C-suite for approvals.
Ready to start your project?
Schedule your consultation
Allow us to create your customized plan
Sit back while we manage and execute the plan for you
Need all the details? Learn more about our creative process.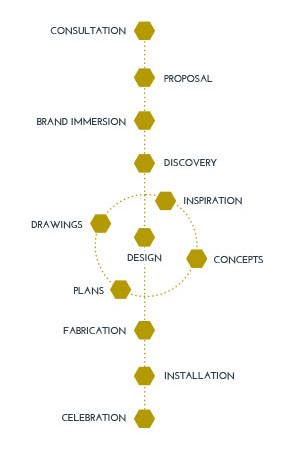 Phase I: Consultation
During this information gathering phase, our team will review floor plans, make site visits and talk with key stakeholders. If you have any architects or contractors already in place for construction, we'll get to the know your team and partners to ensure collaboration from the outset.
Phase II: Proposal
We will draft a proposal with a clear scope of work based off the information received in Phase I.
Phase III: Brand immersion
We will get the necessary brand documents from the team (i.e. brand standards, templates, marketing content or collateral, annual reports, etc.) to help us take a deep dive into the company brand.
Phase IV: Discovery
We will conduct the necessary focus groups to understand the associates' and key stakeholders' points of view to drive the goals and objectives within the space. Out of this phase, we hope to have clear ideas and messages that can be put into visuals for concepts.
Phase V: Design
During this conceptual design phase, we will present inspiration and designs for the various spaces included in the scope of work. This phase can take revisions to concepts and will be important to gather feedback to help drive to concepts for approval. During this phase, materials and finishes will be presented.
Phase VI: Fabrication       
Our team will handle securing any fabricators or contractors needed. We will conduct site visits to ensure the elements are fabricated as intended.
Phase VII: Installation
The team will be on-site to manage all the installations and make sure everything is progresses smoothly.
Phase VII: Celebration
As a collaborative partner in the project, it's important to celebrate the completion of the project. During the celebration phase, we will facilitate professional photography and an after-action session to gather any feedback.