Achieving the perfect holiday mantel look at Christmas can be challenging and overwhelming, but I promise it can be done! My mantel is the focal point in our family room and changes often with the seasons. At Christmastime, this is the spot where we hang our stockings, put out our shoes on St. Nicholas' day, leave milk and cookies for Santa, and much more. Our fireplace area gets used a lot, and I want it to look nice and reflect our family.
Follow these few short tips to get the right look for your own holiday mantel:
1. Add Greenery
While I would love to have real, live greenery on my mantel, unfortunately it wouldn't last long with how much we use our fireplace. We opted to go with faux garland to give our white mantel a nice touch of color. The rich earth tones in the greenery and the mix of the white lights give the mantel a nice glow.
2. Add a Variety of Heights
I like my decor to be various sizes, adding my larger pieces to the outside edges of the mantel so that it frames in my mirror above nicely. I add my shorter pieces throughout the rest of the mantel and mix it up so that the mantel decor has small peaks and valleys.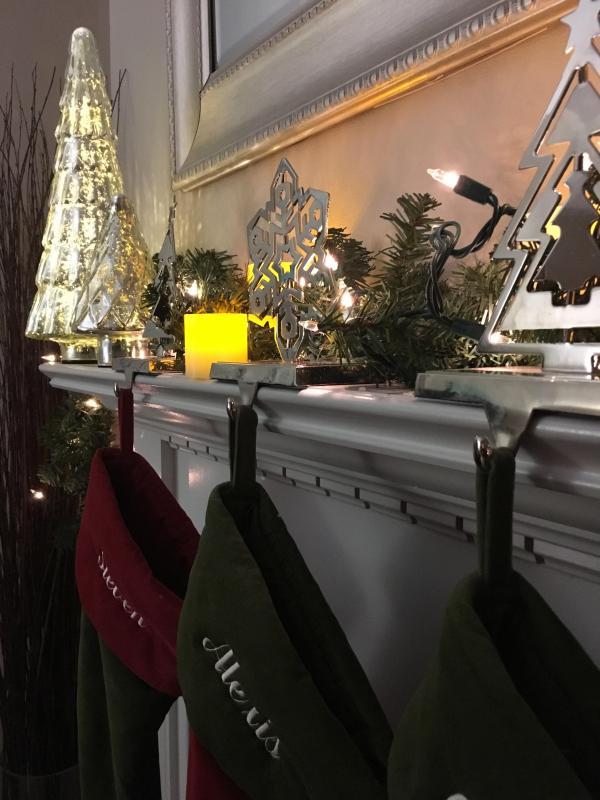 3. Add Dimension
Layer your holiday mantel decor. Put your larger items in the back and your shorter in the front so that nothing is blocked. Adding dimension gives more interest into the display and helps fill in the mantel so there is more to look at without it being completely linear.
4. Add Sheen
Adding various sheens and textures creates interest and uniqueness to your mantel. I choose to add my sheen through the mercury glass trees that I purchased from Crate and Barrel. The sheen in the trees give a nice metallic look to my holiday mantel and provides more warm glow.
5. Select Stockings
I am somewhat of a traditionalist when it comes to the colors I like to incorporate at Christmas time. For my mantel I have chosen to go with a traditional green and red stocking from Pottery Barn. We have our names monogrammed on the stockings, and as our family has grown, so have the stockings hung along the fireplace.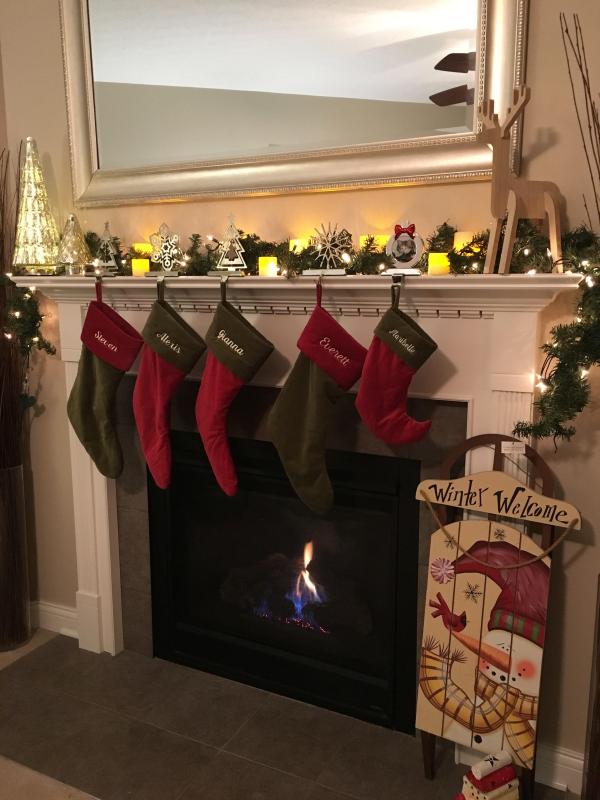 6. Incorporate Light
At night time, we typically always have our fireplace on and the Christmas tree lights on. I like my mantel to also glow. I have included white lights into the garland and included lots of flameless candles in my mantel decor. These candles give nice glow and make the room feel more homey.
There are so many different, unique options to style your holiday mantel for what's right for you and your family. As always, I want to see what you're cooking up with those pretty mantels. Share them with me on social media using #geverettdesign!
I hope everyone has a wonderful holiday season full of love, peace and lots of styling!
If you're looking for more tips, check out my other blog posts on decorating your home!