It's fall and it is one of my most favorite times of the year. At home we turn on all things football while burning Autumn Crisp, Spiced Pumpkin or one of the other various fall-scented candles we have in the house. I love throwing on one of my favorite sweaters and going to any of the patches around town and picking pumpkins or apples with my family. We get a kick out of taking hayrides or going out for a hike to enjoy the leaves changing colors while my daughter picks leaves off the ground to share. If you can't tell, I mean it when I say I LOVE the fall!
One of my favorite things about the fall is decorating the interior and exterior of the house for the season. The contrast of a large orange pumpkin against the bright purple or maroon color mums is perfection. Mums are hardy flowers that can withstand the cool nights that come with fall.
Here are a few tips for achieving a fall porch look:
Head out to your local farmer's market or nursery for a wide variety of mums. Choose different sizes and colors. If you are local to central Ohio, Oakland Nursery or Lynd's Fruit Farm have a nice selection.
Stock up on a few bales of hay. You can get hay pretty much anywhere that sells mums. I like using the hay to give your porch an added layer of height.
Sprinkle in a variety of sizes of pumpkins, gourds, squash, etc. Try getting some white pumpkins or green gourds to add to the display. These will add another layer of color to make your porch stand out.
Next add a few accessories, maybe a cute vintage wooden sign or a beautiful wreath for your front porch.
Following these simple porch tips will have your outdoor area be the talk of all the neighbors. 🙂 All my fall ideas can be found on my Pinterest page if you are looking for some additional inspiration!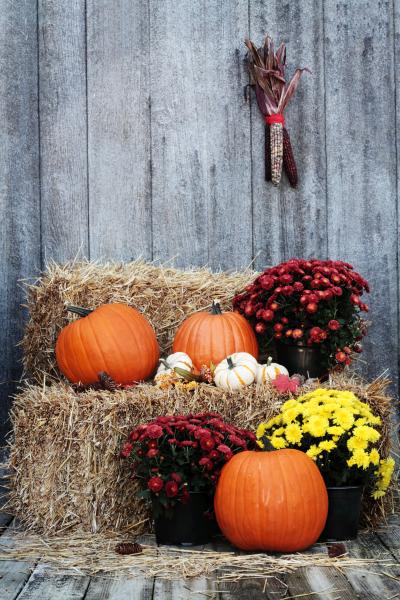 Here are some of my favorite exterior decorations:
Check back later when I talk through interior fall decor.
Happy decorating!