Have you ever visited High Bank Distillery? We love their unique space and recently caught up with founder Adam Hines to hear more about it.  
Tell us what your priorities were with designing a space that is both a fully-functioning distillery and full-service restaurant?
While other local distilleries were limited in expanding their space into a restaurant, we were the first distillery built in Ohio to intentionally also be a restaurant from the beginning. Providing a view into the distillery from the restaurant was our top priority in building the space, so we incorporated 14-feet-tall glass windows between the two spaces. We were always more attracted to a warehouse style and wanted high ceilings. Our building had been two stories previously, so we had to knock out the concrete floor to achieve this. The space went through a substantial transformation, as we whiteboxed the entire thing, jackhammered the floors and installed the garage doors.
We've been guests both on a night out with friends, and we've brought our kids in. Were you deliberate in creating a space that caters to both? If so, what elements promote that?
We thought we'd be much more a late night crowd place given the big patio, open space and service bar, but Grandview is an interesting neighborhood. Since we are outside of popular downtown neighborhoods, we aren't one stop of many for the night. What we discovered is that we are more of a destination, where parties may stay for a few hours. We definitely have a neighborhood feel and attract a more mature crowd. By midnight, we are pretty cleared out. The kid-friendly aspect came organically. We didn't even have diaper changing stations in the restroom when we first opened, but this was remedied quickly!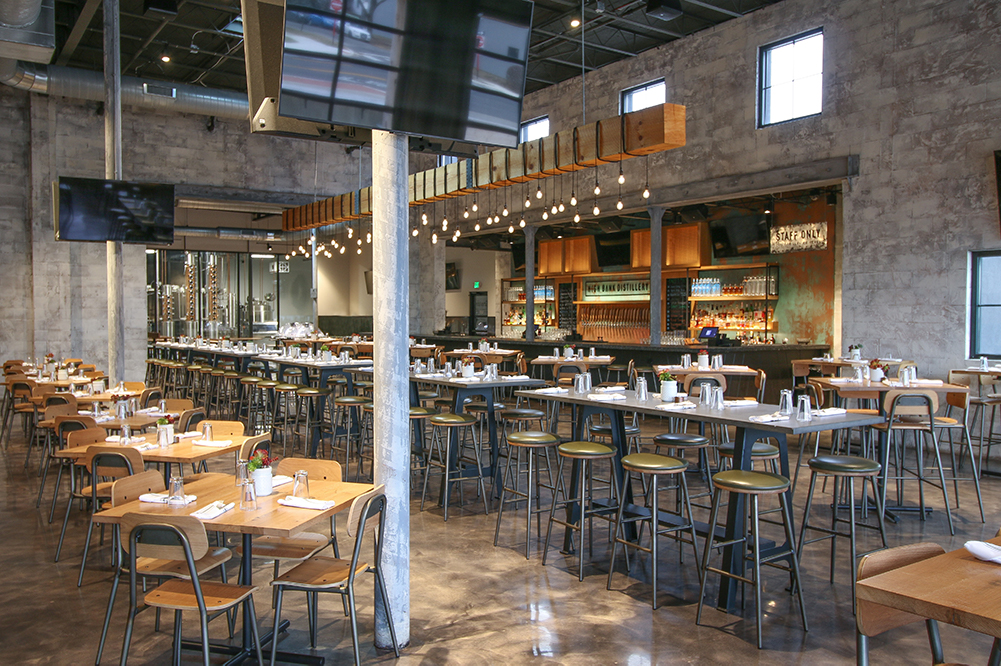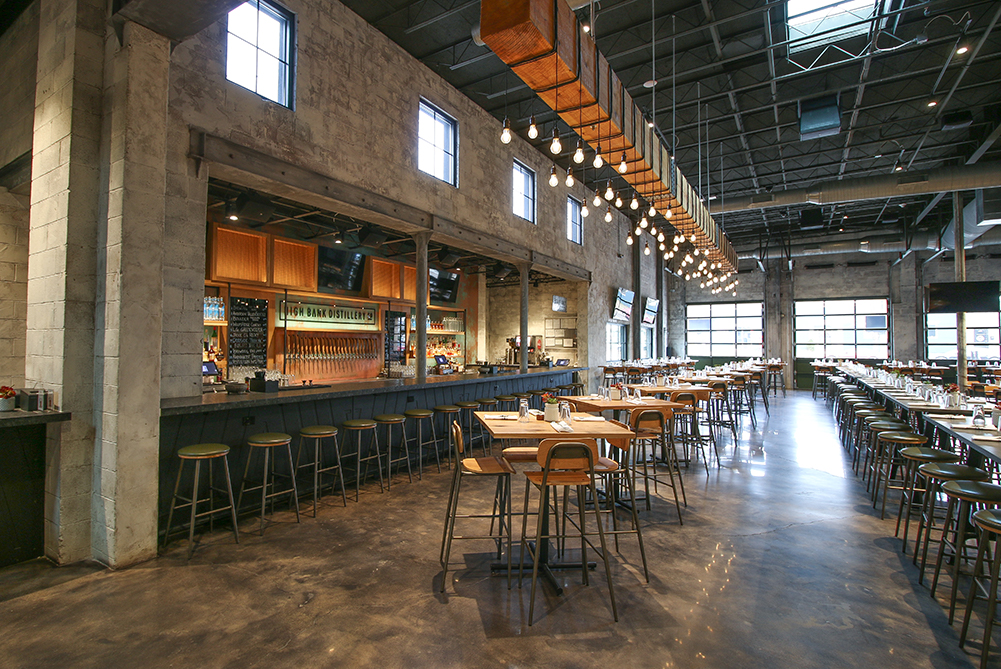 How do you weave your brand into the space?
More than restaurants, a distillery can become a lifestyle brand. Our logo and slogan "make whiskey, not war" is seen on shirts and stickers all over town. We aren't too heavy with marketing inside the restaurant, but we do use the space to share the background and history of High Bank to people in addition to the stories told on the backs of every bottle of spirit we produce and sell onsite.
How have you weathered Covid? Any unique mitigation steps you've taken with your spaces during the pandemic you could share?
The start was super scary. It felt like we were back in startup mode. We had to recreate the whole business. Within five days, we had a whole new takeout menu, flipped the distillery to make hand sanitizer and started offering to-go cocktails. Doing all of this made us stronger. We had the advantage of such a big space to comply with social distancing, but we also took out the games to add additional seating and are not putting them back in. Our positive reviews are actually up without the noise from the games distracting the dining experience. We weathered the storm and were committed to keeping all salary employees on board during the shutdown. We had built a strong team and didn't want to have to start over with chefs, sales staff, etc. Everyone on our team became distillery workers or delivery drivers at some point during the pandemic.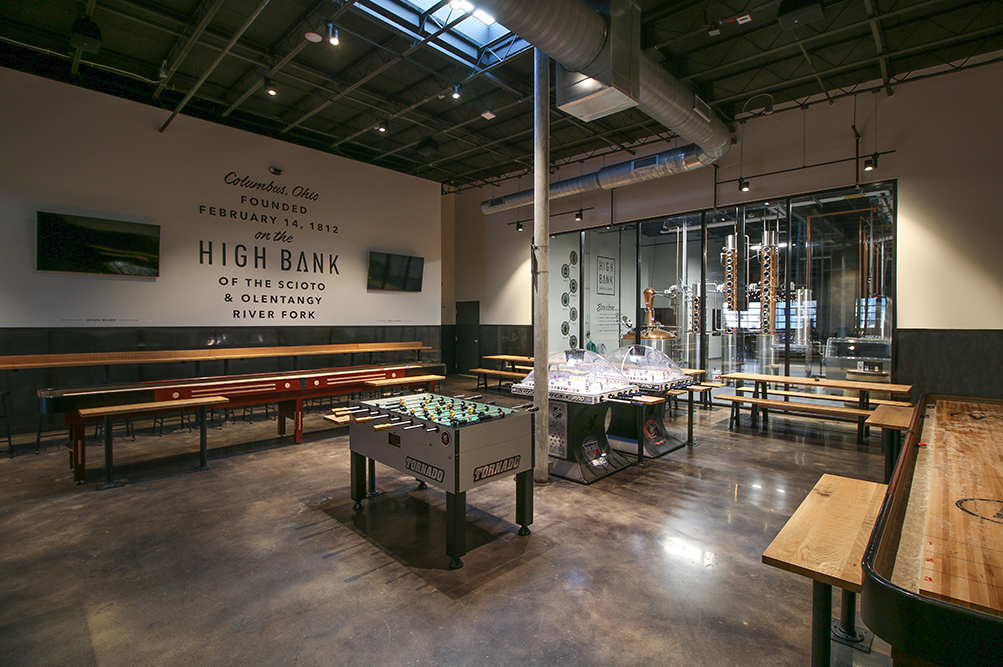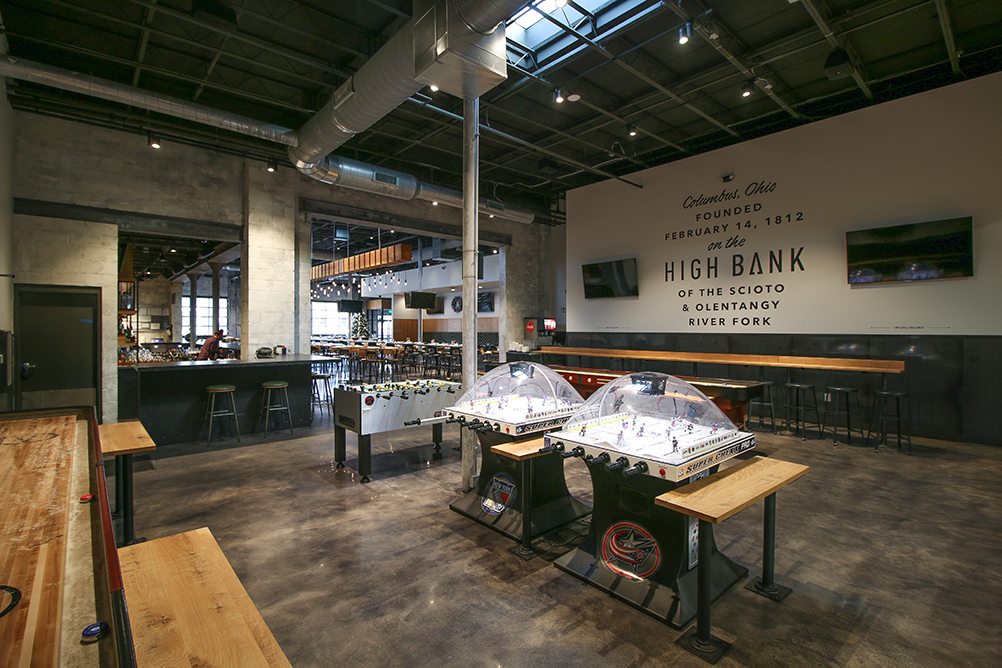 You've been open for three years. How will High Bank continue to evolve?
We are in talks for a second space, so we are trying to determine what is that key conversation piece that we could incorporate into other concepts in the future. It could be the garage doors and wood beam that make it feel like a High Bank space. Repurposing is important to us, so we'd prefer to renovate an old space. We like the idea of taking something unused or run down in a local community and making it beautiful. We definitely want to grow both as a distillery and a restaurant. Long-term, we want to expand outside of Columbus. We will keep asking ourselves, how do we keep making interesting and individual experiences given the community we are operating in?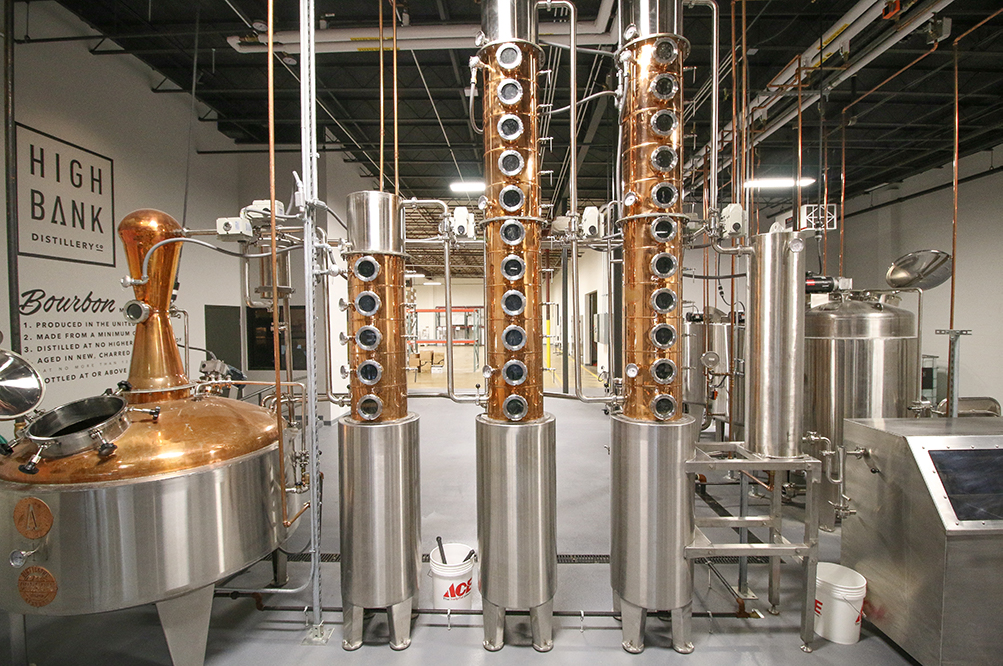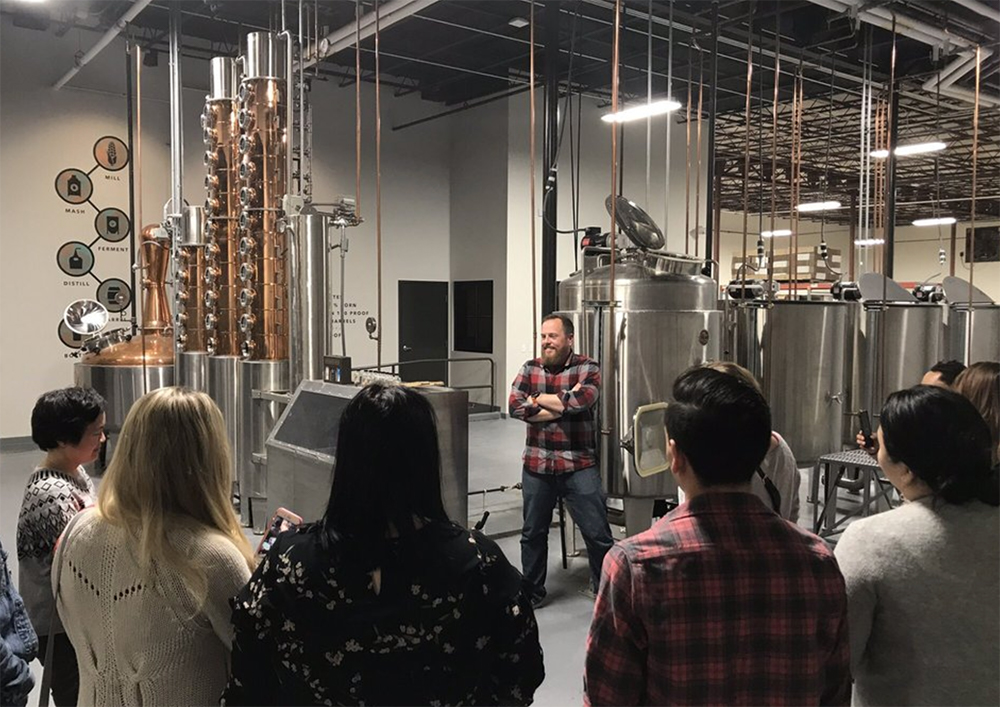 Ready to start your project?