My husband and I toured Watershed Distillery well before we were husband and wife – and we've remained big fans ever since. Our lives have changed substantially since that first tour ten years ago, and Watershed has certainly evolved remarkably as well. So much so that the last time my husband visited the retail shop in Grandview, he came home with fresh bottles of both their signature bourbon and a new concoction – hand sanitizer. We recently caught up with Greg Lehman, founder and CEO, to find out more about their space.
Take us back to 2010: what challenges were presented with turning your space into a distillery?
There were challenges aplenty back in 2010, even if they feel totally different than the kind we face now. One of the biggest we faced was timing. We were reliant on approval from the State to begin selling our spirits, but we needed to have distillery space leased with functioning equipment in-house. One of the wildest memories to look back on is the day we ordered our still for production. We didn't have a distillery space officially lined up at that point, so we just told the still company to ship to "Columbus, Ohio," and we'd figure out the exact landing place in the meantime! We did obviously, but it took some serious belief in ourselves. We were refining recipes and recruiting volunteers (friends and family) just trying to keep the lights on. 2010 was a formative year, and even with all the challenges, it provided the foundation upon which this business was built.
What specific interior elements were critical to bringing Watershed to life in the space?
We needed a fairly open space with proper ventilation as a baseline. We were lucky enough to find a space in Grandview with lots of natural light, something that's especially helpful during the colder winter months. As we've grown, we've taken on more space adjacent to our original footprint, and have reworked the flow and arrangement of equipment to best suit the additions. We started with a still that could produce 60 gallon batches at a time. Now, we have two enormous stills, each able to produce 600 gallon batches at a time.
When we acquired the restaurant space in 2016 and began construction, we prioritized natural materials, open layout and line of sight right into the distillery. We knew people would enjoy seeing the working distillery and gleaming tanks while they sipped a cocktail at the bar or ate dinner. Our all-glass patio wall that rolls all the way up during warmer months, lets in natural light and breeze.
How has the space evolved over this decade-long run?
When we were starting out, our "office" was a shared desk right by the front door, so we could interact with anyone who came by. As our business grew, we needed to adapt to accommodate additional team members and equipment, along with public tours. We recognized pretty quickly that if we wanted to age bourbon and other spirits, we'd need a barrel-aging warehouse to house hundreds of barrels, so we were able to rent the space directly across from the original distillery and move all barrels to that side. Our team is especially thankful for progressing from hand bottling our spirits to an automated line about five years ago. That's increased efficiency immensely.
How did you scale the brand and vibe from a distillery and shop into a terrific restaurant?
It took a dedicated team, months of iterations and a belief that the soul of our distillery should absolutely shine through in the restaurant. We made sure that the distillery was entirely visible to patrons by installing a floor-to-ceiling glass wall between the distillery and restaurant. We are lucky that distilling equipment, made of copper and stainless steel, is visually captivating. We kept some industrial design elements on the restaurant side, but paired them with pieces of our history and values, like geological maps of Ohio funky art, and unfinished copper elements. Our tables and chairs are a fairly rustic wood, hand made by the talented team at Edgework Creative. We wanted to make sure to carry the handmade feel through our entire business, and we hope that resonates.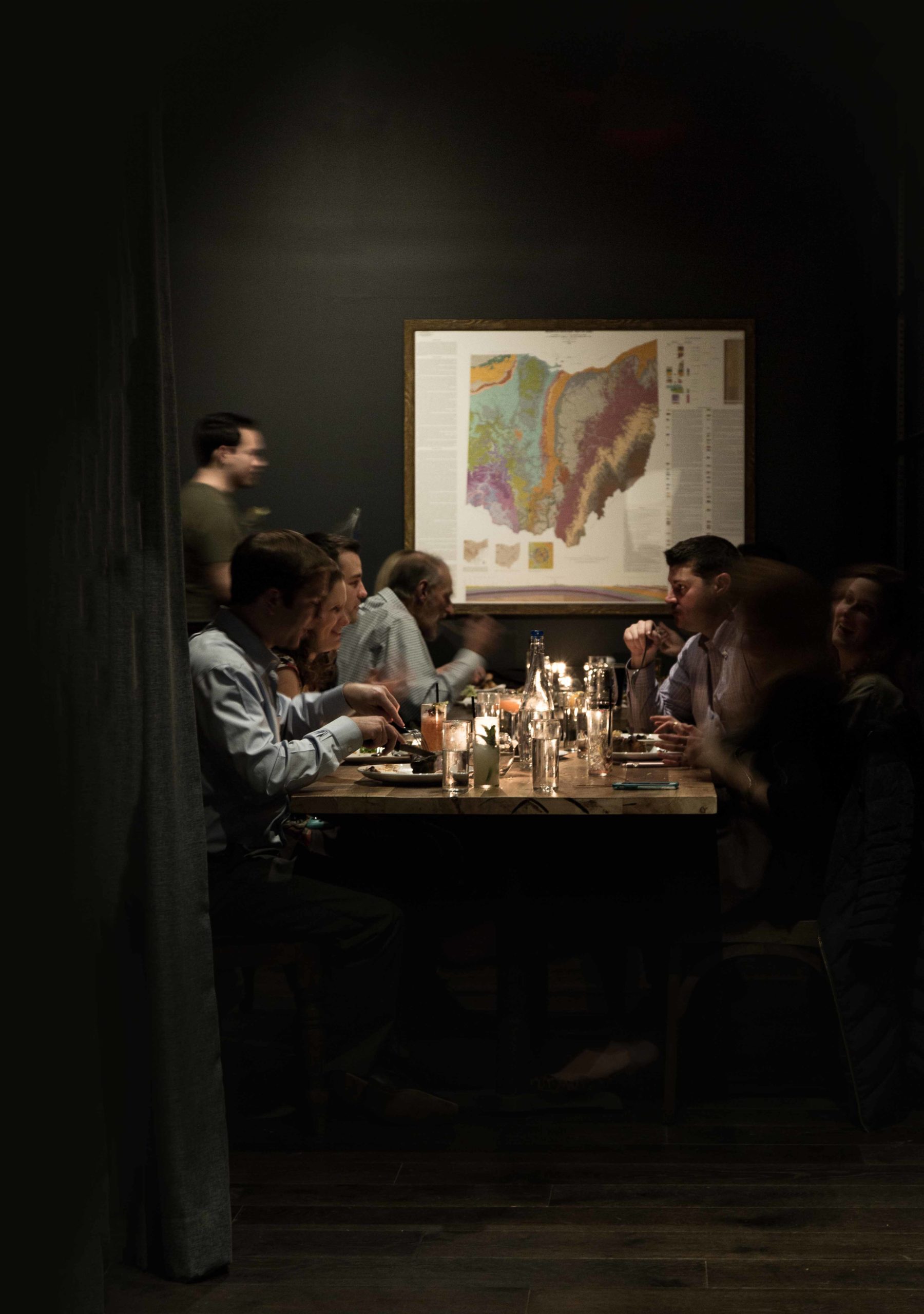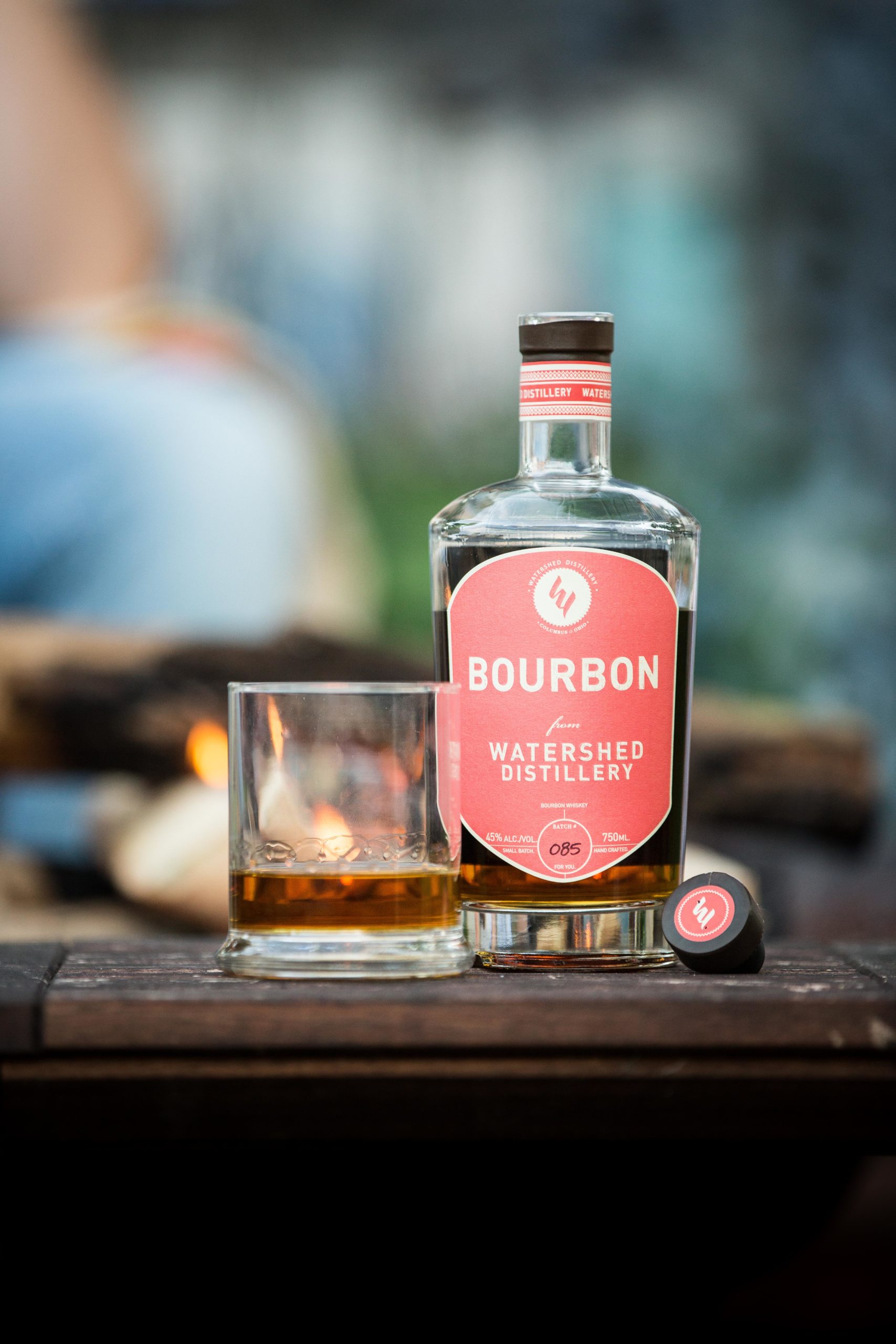 Pre-Covid, how has your space promoted your principle of community?
Pre-Covid, our distillery tours and private and public events were at an all-time high. We were getting the chance to engage with members of our community who were familiar with our spirits, maybe even longtime fans, and some who had never experienced our space or products before. Creating a space where our brand is embodied visually, and where people can connect with our team and what we do is invaluable. The restaurant was created to offer a place where our principle of community is brought to life. Walking through our restaurant on a busy evening would fill us with a sense of pride, as we've created the opportunity to bring people together over Watershed spirits and delicious food. That buzz of the restaurant, the movement of our team, the sounds of laughter and music, it was all incredibly rewarding. And we do look forward to the opportunity to serve those in our community at the restaurant, in our bottle shop and on tours again – once it's safe.
How have you and the team navigated Covid protocols and physical distancing? Anything unique that you've learned or care to share?
As a team, we made some immediate decisions to prioritize the health and safety within various facets of our business, the largest of which was the decision to close Watershed Kitchen & Bar in March of 2020. We decided that we'd resume business once we had a better understanding of Covid, and we felt the environment was safe, which is looking to be sometime early this summer. At the same time, we paused public tours and tastings, and converted our bottle shop into a curb-side business. That transition was a smooth and effective one, and one that kept our staff and customers safe.
During the months of March and April, recognizing an urgent need in our community, we switched to producing large quantities of hand sanitizer, which we sold like crazy in those months when it was nearly impossible to find. That was a whirlwind and incredibly rewarding. We were able to prioritize first responders, get sanitizer to hospitals, schools, even the voting booths. We were able to bring some of our out-of-work team members back in to support the bottling and labeling efforts, and help keep people safe.
We also learned in 2020 that if we can't host some of our beloved in-person events, we can still create quite a buzz and have a great (safe) time by pivoting to drive-thru events. We tested a couple of drive-thru bottle releases and events last year, and each was a success. Cars lined up for blocks to grab a limited bottle of bourbon or gin. And while that wasn't an ideal scenario by any means, it did still allow for that all important connection and conversation to take place.
What should we watch out for in the future for Watershed Distillery?
You should keep an eye out for some 2021 product releases on the horizon, along with the reopening of our restaurant and tours later this year, and some special events. We can't wait to welcome people back into our space safely, and will not take that opportunity lightly!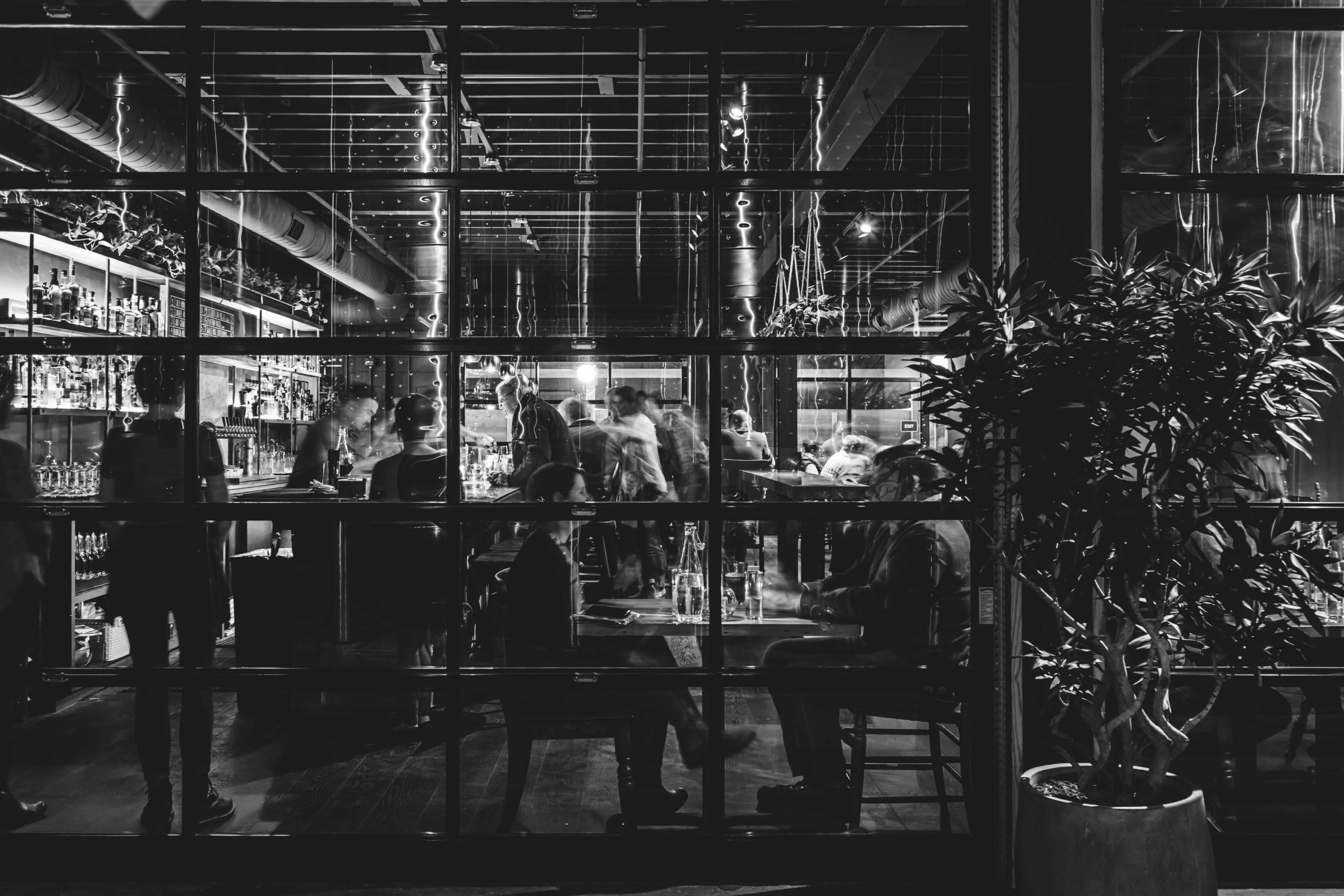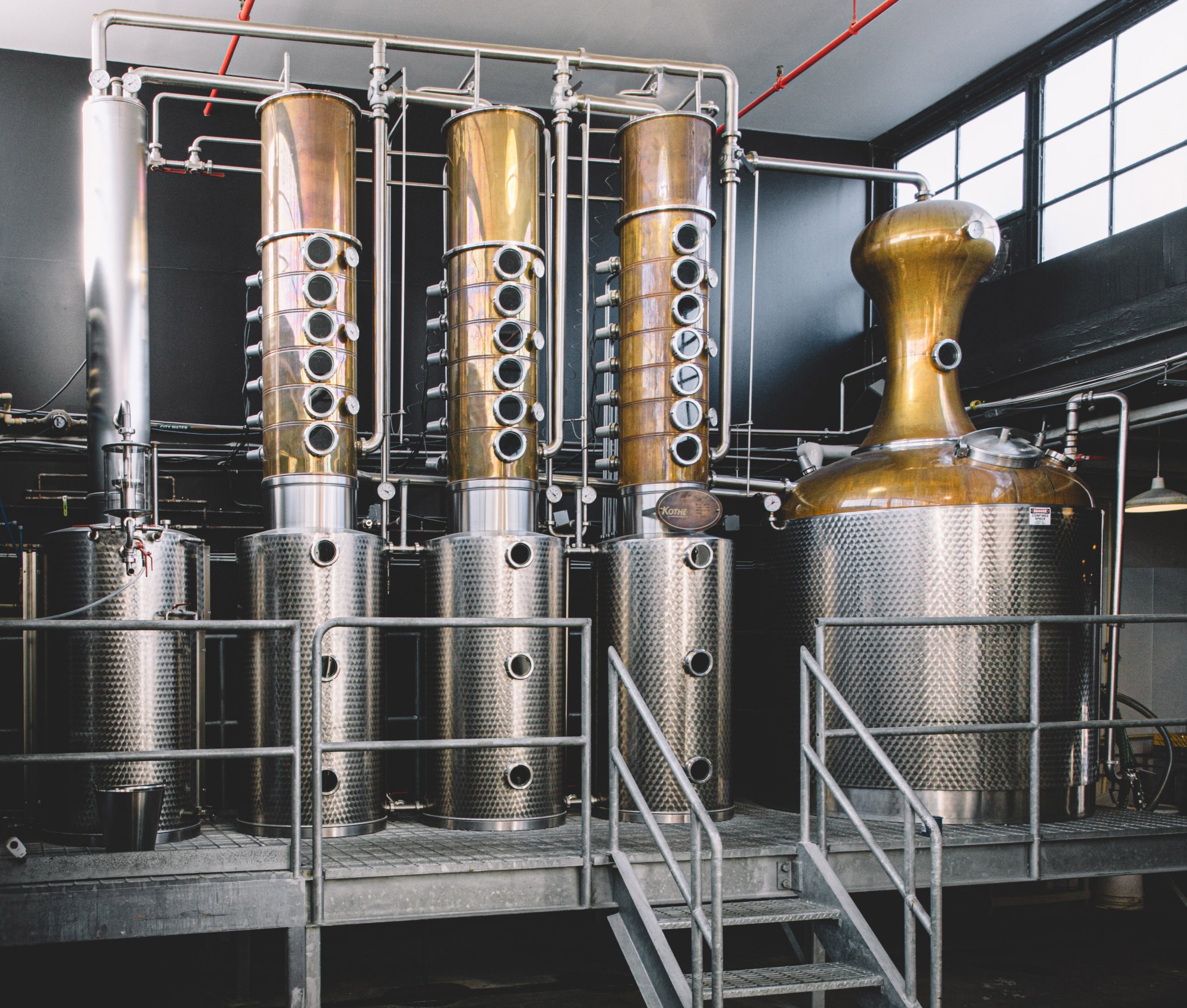 Ready to start your project?