Now that we have the outside of the home ready for the season, let's head inside.
You always want to make sure however you decorate and for whatever season, that your decorations and design fit your taste and the functionality of your home. With small toddlers running around my house, I have to make sure to tailor my decorating to them.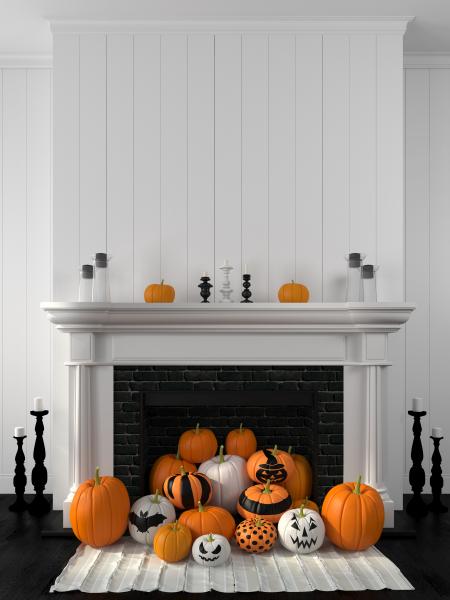 Inside the house, I love decorating my mantel and the various tables in my family room. Just like with decorating the outside, it will be important inside that you select a variety of shapes, colors and sizes to add visual interest in whatever display you are decorating. I adore mixing fresh pumpkins and gourds on my tabletops with other non-living items like faux leaves. I choose items that are high gloss and mix them with matte finish too. The different sheen levels give your display another level of visual interest. Make sure to add in some glitter too!
Since it gets darker earlier in the fall too, I add real and faux candles to a lot of my displays. Keeping candles in dark lanterns also adds another scary and creepy look by your fireplace display.
I'll add a little decor to my interior doors as well. I enjoy finding wood signs to hang on the doors downstairs. My daughter loves looking at the different door signs and pointing out all the pumpkins and fall art on them. I like the door decor because it is the one thing my kids can't reach and rearrange.
If you want to go all out in your decor, add in a couple fall inspired pillows to your couches. This will give added comfort when you and your family are watching football on the weekend.
I have selected a few of my favorite fall decor below for you to reference. Hope these ideas have given you some good inspiration. Go wild, enjoy what you create! All of these ideas mentioned in my post can be found with direct links on my Pinterest Page.
In case you missed it, don't forget to check out my post about enhancing the exterior of your home for fall!